BACP registered COUNSELLING & PSYCHOTHERAPY IN RICKMANSWORTH (WD3), NEAR WATFORD (HERTFORDSHIRE) AND ONLINE, INCLUDING SOUTH EAST LONDON (SE1).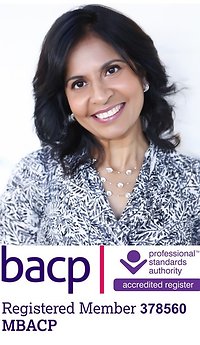 Welcome
Welcome. I'm glad you stopped by. The information below explains how I can help and support you.

My name is Kalpna Hirani and I am a qualified and experienced Counsellor and Psychotherapist in Rickmansworth (WD3).
I have undertaken extensive training and met a high degree of expertise and skills in order to obtain membership of the British Association for Counselling and Psychotherapy (BACP).
I have also accumulated many years of experience in client work, to provide you with the best help and support.
I offer in-person (face to face) sessions in Rickmansworth (Hertfordshire, WD3), which is a short distance from Watford, Ruislip, Northwood and South Buckinghamshire.
For those living further afield in Europe or rest of the world, I offer video (Online) sessions. In addition, to video session, I offer telephone counselling to those in the UK.
My goal as a counsellor and psychotherapist is to work together with you, exploring your experiences, thoughts and feelings and the space I provide will always be confidential, compassionate and empathic where you can get help and support.

There are many experiences that life may present you with. Sometimes, you may feel sad, upset, stressed, lonely, anxious and you may feel feel overwhelmed by these challanges and wish to speak to some one. It doesn't have to be a massive 'trauma' event that has happened to you. You may just want to talk about how you feel or you might want to explore specific experiences or maybe you're not quite sure how an event may have impacted your life. No matter what you're going through, whether depression, anxiety, panic attacks or struggling with relationships, past trauma, stress, feelings of isolation or, loneliness, there is hope. It's no fun feeling down or stuck and struggling, not knowing which way to turn. There is a happier person inside you trying to get out. I have the expertise, time and space to help you explore and work through your problems so you can find that happy person inside you. Just give me a call.

Sometimes it just makes sense to reach out for professional help rather than struggling on your own. Just contact me to book a 15 minutes introductory telephone consultation and I can explain how I work, from here we decide if we are comfortable with the idea of working together! I totally understand that the first call to say you need therapy can be hard. But give it a go. Just call me. I understand.

You're in safe hands


My practice is governed by BACP's Ethical Framework, ensuring that I'm committed to making you my primary concern while we are working and that I'm a trustworthy and competent health practitioner, working to professional standards.

I offer a compassionate, non-judgemental, empathic and warm therapeutic environment to enable you to feel safe enough to express your inner deeper thoughts and feelings. With me, you can be your true self and be honest about how you are really feeling.

My commitment to you is to support you and provide a safe therapeutic space, free of judgement where you can reflect, to empower you to identify and work through your emotional difficulties, and enabling you to find a way forward in life that you feel is right for you. I will ensure that you feel sessions maintain direction and focus, empowering you to review your progress regularly, always holding your autonomy in mind.

My way of working is gentle but sufficiently challenging to help you grow. I work at a pace that suits you, and I offer a space to safely contain what you bring. As your counsellor, I will strive to create a relationship based on equality rather than being 'in charge'.

These pages will lead you to how I can provide you with a personalised approach, tailored to specifically support you with your emotional wellbeing and personal development. To find out more, please take a look around and read about how I can be of help.

Click here to have a look at some information on wellbeing
I have specifically trained and worked with people who have experienced the following;
Trauma, including post traumatic stress disorder(PTSD), Complex trauma(C-PTSD),
Abuse (childhood sexual, physical, or emotional abuse) and Neglect
Anxiety including Generalised Anxiety Disorder, Panic Attacks, Obsessive Compulsive Disorder (OCD), Health and Social anxiety
Depression, Low Mood
Sleep issues
Anger management

I have extensive experience working with people who require support with:
Stress including Work Related Stress
Feelings of sadness, loneliness and isolation
Relationships


People also choose me as their counsellor when they need help with:
Low self esteem and confidence
Life changes and transitions.
Personal Development
Expatriate & Cultural Counselling

So if any of these are affecting you, please feel free to call and we can explore how I might help.
My approach
I offer a confidential, supportive and respectful space to enable you to explore your emotions and aspects of your life, openly and freely. I will support you to develop your awareness, empowering you to bring about effective change that you feel is right for you, so you can be the best person that you can be.

As your counsellor, I can provide support in a personalised approach to emotional wellbeing and personal development, by being in tune with how you are feeling and by understanding your experiences. Sometimes it may be some clarity as well as self-compassion that will shift how you feel and respond to yourself. I will support you so that you can see a way forward and work towards a growing sense of inner peace and contentment, with more focus and clarity.

The basis of my counselling practice is Person Centred which means my approach is non judgemental and I work with integrity, authenticity, empathy and compassion. In addition, I will use my experience and training in many different approaches such as Cognitive Behavioural Therapy (CBT), Transactional Analysis (TA) etc, and I can work creatively to ensure that my approach is flexible and tailored to the needs of each individual. I do not diagnose or categorise - I see therapy less as a "cure" but more as a process which sets something in motion. My way of working is based on the idea that each person is an individual so one type of therapy doesn't fit everyone. I tailor my approach to clients rather than expect the client to fit into my therapeutic approach.
Format of sessions on offer
I'm offering face to face / in person sessions in Rickmansworth (WD3 area near Watford) in Hertfordshire. My location is within easy reach of Rickmansworth station, and the M25. It is in Hertfordshire and the borders of Buckinghamshire, Hillingdon and Harrow, so convenient for those in Ruislip, Pinner, Northwood, Watford, Denham, Uxbridge, Chalfont, Sarratt, Amersham and St Albans.
Having had BACP approved training for online and telephone counselling, I'm skilled and experienced in the use of live video-based technologies, for counselling practice. I'm offering telephone or online counselling via video meetings for those in the South East London SE1 area and beyond. Fortunately, successful therapy can be delivered remotely and I have been working in this way for some time, so you can be in the comfort and safety of your own home without the need to travel.

Many people find online or remote counselling and psychotherapy useful and empowering as they can feel safe and more in control by being in their own physical space. It also allows much more flexibility in booking days and times to support your needs, especially if you are confined at home or have time restraints. Get in touch and I would be pleased to help you and answer any questions you may have.
I have experience of working as a therapist within a private school (RMS) and organisations such as Signpost - an agency in Hertfordshire and Link which falls under Hillingdon council's Early intervention programme, both provide counselling and other support to help children and young people (13-25 years of age) and families.


I'm an Axiety approved therapist.
Get in touch
Its not always easy to create change on your own. A little support can help create the change a little faster. You do not have to wait until it gets really bad to ask for the help you need. Whatever issues you are facing, I will strive to work with you and help you find a way forward. Contact me to find out a bit more about how I can help you. If you don't even try you will never know. You can find ways to get in touch on my Contact page, or you can complete Email contact.

"If you're struggling with anxiety, you're not alone. Nearly half (49%) of the UK population have experienced anxiety in the past five years, according to our 2023 Public Perceptions Survey. It's the UK's most common mental health problem.. - quote from BACP

Thought for the day:
Emotional regulation is the ability to manage and respond to one's own emotions in a healthy and adaptive way.
It involves recognizing, understanding, and effectively handling emotions to navigate life's challenges.
I am a professional member of The British Association for Counselling and Psychotherapy (BACP *) BACP This is the largest professional body for counsellors in the UK. The main purpose of the BACP Register is to protect the public and help them find therapists they can trust. It aims to reassure clients, that a BACP registered practitioner adheres to high standards of safe and ethical practice.

my Linkedin page
follow me on Instagram
follow me on Facebook