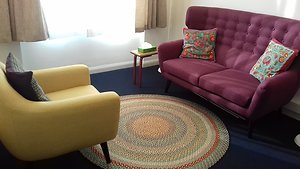 Contact
Deciding to see a therapist isn't an easy choice for everyone. People seeking help often feel nervous about discussing the intense, serious emotional challenges they're struggling with. Many aren't entirely sure how therapy works. In either case, they'll probably want to ask questions about the therapy process and how I can help.

I offer a free of charge 15 minutes telephone consultation to give you a chance to speak to me, get a sense of me and an opportunity to ask me any questions you may have, before you commit to working with me. There is no obligation for you to enter into therapy and you will not be pressured. The most important thing is that you feel comfortable with the therapist who you choose. Its important that you feel comfortable talking to me and opening up so I am able to help you effectively. The success of therapy depends so much on our working relationship, the connection you make with me really matters. It's often possible to tell by the end of the consultation if you can see yourself working well with me. I want you to succeed and don't want you to waste your money if you don't feel quite right about me.

If the right person for you isn't me, I will be happy to support you to find the right therapist if that is what you wish. It may be that I can refer you to a more suited colleague.

You deserve to feel better, and if you choose to work with me, I would be honoured. You only have to click on this link Email contact to send a message and take that first step.

Alternatively, you may choose to contact me by text but if you call and get my answerphone, please do leave a message. I will aim to reply to your enquiry as soon as I am available, certainly within 24 hours. I am hopeful that we would be able to arrange an initial appointment within a week of first contact.

Getting Started
Simply text, call or email to set up an appointment. I look forward to engaging with you.